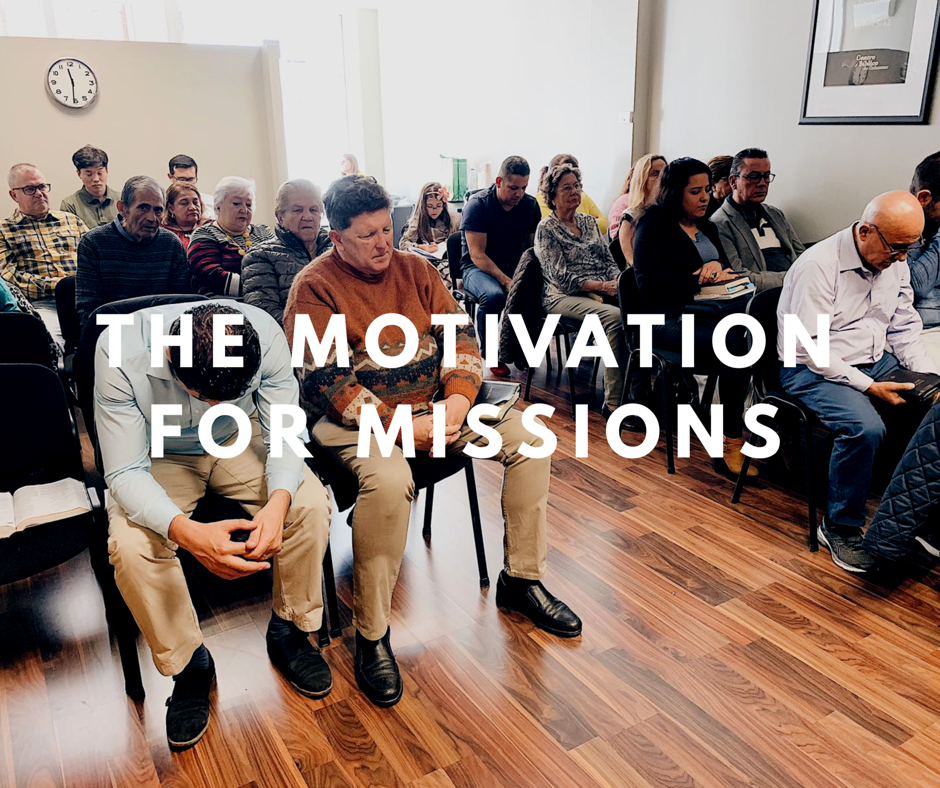 Why are we not participating in missions as we should?! Maybe you're like me, and have asked yourself this very question as you've considered your local church's involvement in the work of missions. You dream of the day when your church is starting other churches and exporting missionaries to unreached places. You long for your church to give generously for the advancement of the gospel to all nations. But the reality is that your church is barely making an impact in its own community and very few members are actually sharing the gospel with their friends, family members and co-workers. 
I don't believe the problem is simply a lack of knowledge. Most bible-believing churches and pastors regularly teach the Great Commission and have missions conferences or missions emphasis Sundays/months. Of course, having missions in front of peoples' eyes and resounding in their ears is going to make a difference. Lack of knowledge is certainly part of the problem, and can be remedied by organising missions trips to foreign countries and by sermons that show from the text God's heart for the nations. But even after all of these things are done and emphasised there still exists a disconnect between our knowledge and practice. Our main problem is not that we don't know that we have a mission. Our main problem is that we aren't participating in the mission as we should. So why is that? During the next three weeks I would like to explore the answer to that question. I don't pretend to have all the answers. I'm just a missionary asking God to use me to have a part in helping the churches in Spain become missionary churches. I'm sure you have the same desire in your context. 
So, why are we not participating in missions as we should?
We don't have the proper (or the best) motivation for missions.
We don't understand (or appreciate) the message of missions.

           
We don't have the correct method of missions.
Bonus: We don't know the ultimate goal of missions.
In this post I would like to consider the first reason above. I believe that the most fundamental reason that we don't participate in missions as we should is because we don't have the proper (or the best) motivation for missions.
The Supreme Motivation
Asking the question of what is supreme or ultimate is an excellent exercise. For instance, we could say that the purpose of marriage is for companionship, and that would definitely be one of its purposes, but it would not be the supreme purpose. The supreme purpose of marriage is to reflect the covenant relationship between God and his people (Ephesians 5:32). Focusing on the supreme purpose of marriage will keep you committed to your marriage even when companionship and intimacy fail. The same could be said about the gospel. If the word 'gospel' means 'good news', then what is the ultimate good news of the gospel? We could say that it's the fact that our sins are forgiven or that we don't have to go to Hell. While all those things are undoubtedly great news and true, they are not the ultimate good news of the gospel. The ultimate good news of the gospel is that by it we recover God whom we lost after the Fall. In other words, God is the gospel! (1 Peter 3:18) Understanding the ultimate meaning of the gospel inspires our Christian hope. 
So what is the supreme motivation for missions? Is it Christ's command? Is it the reality of Hell? Is it the glory of Heaven? In order to answer our question, we first need to understand what makes the church unique. What does the church do that only the church can do? It may seem that I'm chasing rabbit trails here, but I promise you that if you read until the end you will understand the relevance of this question to the matter of the supreme motivation for missions. 
What Makes the Church Unique?
When we think of that question what may first come to mind is right conduct. In other words, what makes the church unique is the outward behaviour of its members. Believers are good, moral people that act justly and uprightly in private and in the public square. True born-again believers can be distinguished from the rest of society by their good works. That certainly should be the case. Jesus said that his disciples would be known for their good works and their love. (Matthew 5:16; John 13:35) But is right conduct a unique characteristic of the church? At times members of other religions and gospel-denying "Christian" denominations and sects have a better testimony of good works than many true disciples of Christ. Even atheists can be moral and "good" people. 
Maybe you could say that soul-winning makes the church unique. But again, while only the true church has the true gospel, other groups intentionally and passionately seek to win converts to their faith. Some are even internationally known for their door-to-door proselytism. So neither right conduct nor evangelism are activities that only the church can do. If that's the case, what makes the church unique?
1. The Church Worships God (Christ).
Worship is the activity par excellence of the church. Only the church can truly worship God. Why? To answer that question we need to understand the nature of worship. What is worship? Both in Hebrew and Greek the word that is translated 'worship' in English, literally means, "to fall down" or "bow down". That doesn't really help us a lot, because you can fall down or bow down before someone or something and not truly worship. So what is worship (the verb)? Worship is to reverence someone or something. Worship is to extremely enjoy or love someone or something. These definitions come from the Spanish Royal Academy dictionary and describe worship generally. These are not definitions of Christian worship per se, but they do teach us a lot about the nature of true worship. To reverence something is to "hold it in high esteem", to "cherish or treasure" it. And we all understand what it means to enjoy or love something. 
What these definitions teach us is that worship cannot be in any way forced upon someone. The moment that worship is compulsory, it ceases to be genuine worship. You can make someone bow their knee, but you can't make them delight in the object before them. So why do we say that only the church can worship God? Because only the church wants to worship God:
"And this is the condemnation, that light is come into the world, and men loved darkness rather than light, because their deeds were evil. For every one that doeth evil hateth the light, neither cometh to the light, lest his deeds should be reproved." (John 3:19-20)
Left to our own devices we would never worship God. In our natural state anything is better than God. The above passage doesn't say that man chooses darkness over against light in some calculated, dispassionate way. It says that man loves darkness and hates the light. We do not want to worship God. So how does anyone come to worship God? The truth is that we cannot change our own nature. We must be given new hearts to love God and new eyes to see His beauty. And when the Holy Spirit produces that miracle within us, we can't help but worship. It would be like standing at the edge of the Grand Canyon for the first time and not exclaiming, "Wow!" The delight is inevitable. It's the natural response of a heart that can see what's really there. This is what Scripture calls the new birth. 
"For God, who commanded the light to shine out of darkness, hath shined in our hearts, to give the light of the knowledge of the glory of God in the face of Jesus Christ." (2 Corinthians 4:6)
So what does it mean to worship God? It means to know Him correctly and to value Him supremely. And only God's worshipping community (the church) can do that. Only the church has been given eyes to see God for who He truly is: infinitely glorious. Only the church reverences, loves and enjoys God. Only the church worships. 
So far we've described worship as a correct knowledge of God and an inward devotion towards Him wrought by the Holy Spirit. But isn't worship also described in Romans twelve as the offering of our lives in service to God? That leads us to point number two.  
2. The Church Praises God (Christ). 
Technically praise isn't something different from worship. Praise is an aspect of worship. Worship has two aspects: one internal and one external. In order for there to be true worship both of those aspects must be present. Consider the vain worship of the Pharisees. 
"Ye hypocrites, well did Esaias prophesy of you, saying, This people draweth nigh unto me with their mouth, and honoureth me with their lips; but their heart is far from me. But in vain they do worship me, teaching for doctrines the commandments of men." (Matthew 15:7-9)
So what is praise? I find Daniel Estes' definition in his Handbook on the Wisdom Books and Psalms helpful. According to Estes, "Praise is rooted in profound enjoyment that overflows into verbal expression that calls on others to join in its rejoicing." I would add that praise not only manifests itself in verbal expressions, but also in consecrated lives.
As Donald Whitney wrote in his Spiritual Disciplines for the Christian Life, "Worship is focusing on and responding to God." The responding to God part is what we call praise, and it's more than singing, but it's not less. 
"Speaking to yourselves in psalms and hymns and spiritual songs, singing and making melody in your heart to the Lord; Giving thanks always for all things unto God and the Father in the name of our Lord Jesus Christ…" (Ephesians 5:19-20)
My voice teacher used to say to me, "We sing when we can't express with the spoken word what we feel." That's where hymns and praise songs come into play. As pastor John MacArthur said in a recent sermon, "When we sing hymns we borrow other peoples' words to express our praise to God." In reality words are insufficient to express the greatness and wonder of God, but we still search for them. That's why we sing! 
Other ways that we respond to God are by our giving and by our service to God and others. These are all sacrifices of praise! 
"But I have all, and abound: I am full, having received of Epaphroditus the things which were sent from you, an odour of a sweet smell, a sacrifice acceptable, wellpleasing to God." (Philippians 4:18)
"I beseech you therefore, brethren, by the mercies of God, that ye present your bodies a living sacrifice, holy, acceptable unto God, which is your reasonable service." (Romans 12:1)
"By him therefore let us offer the sacrifice of praise to God continually, that is, the fruit of our lips giving thanks to his name. But to do good and to communicate forget not: for with such sacrifices God is well pleased." (Hebrews 13:15-16)
"Ye also, as lively stones, are built up a spiritual house, an holy priesthood, to offer up spiritual sacrifices, acceptable to God by Jesus Christ." (1 Peter 2:5)
Worship is the Supreme Motivation for Missions
So what does all this have to do with missions and our motivation towards it? Everything! It turns out that our main problem is not our lack of knowledge of the mission; it's our deficient worship. If Christian praise is the overflow of our enjoyment of God that calls on others to join in its rejoicing, then the only possible reason that we aren't passionately calling on our neighbours, co-workers, family members and the nations to enjoy God with us is because God is not our delight. Other things are more valuable and precious to us.  
If God was our greatest joy and treasure, we wouldn't be able to keep silent about him. Have you ever met someone that loves something? As C.S. Lewis reminds us in his Reflections on the Psalms, "The world rings with praise—lovers praising their mistresses, readers their favourite poet, walkers praising the countryside, players praising their favourite game—praise of weather, wines, dishes, actors, motors, horses, colleges, countries, historical personages, children, flowers, mountains, rare stamps, rare beetles, even sometimes politicians or scholars." Praise is the natural overflow of enjoyment! So why do we not praise God with our words and lives and call on others through the gospel to praise with us? Because we don't enjoy God. 
Not only that, if we truly considered God to be the supreme value in the universe we would strive for those things that glorify or magnify God the most. And nothing glorifies God more from his creatures than worship. As John Piper wrote in his book Let the Nations be Glad, "Missions exists because worship doesn't. Worship is ultimate, not missions, because God is ultimate, not man. When this age is over, and the countless millions of the redeemed fall on their faces before the throne of God, missions will be no more." Worship fuels the Christian mission. It's the supreme motivation and goal of missions. All other legitimate motivations like Christ's command, the reality of Hell, and the glory of Heaven are only powerful when they are impressed upon worshipping hearts. Let's start there. Let's do what we can to fan the flames of worship in our local churches.
"O let the nations be glad and sing for joy: for thou shalt judge the people righteously, and govern the nations upon earth." (Psalm 67:4)
(Special note: I have decided to start writing my thoughts on different subjects and sharing them on my blog. I enjoy the mental exercise. However, I understand that not everyone wants to read my musings. If you have received this post via e-mail and would like to stop receiving weekly updates and musings and would like to receive our bi-monthly ministry updates only, please reply to the e-mail you received with the words PRAYER LETTERS ONLY and I will promptly change your subscription settings)